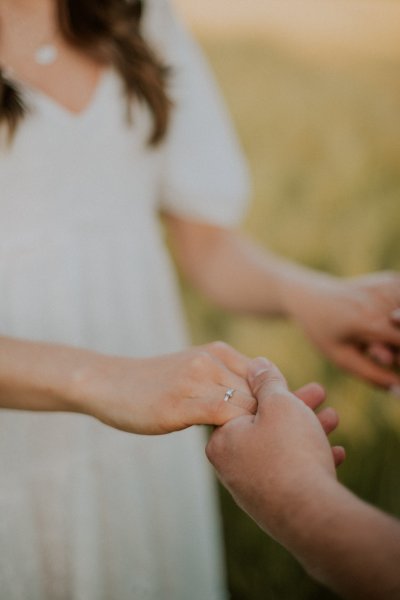 I married young. I was 19 years young. I grew up in a small town back east. I knew about the Bible and God, but I had never met Jesus. I had tons of friends. My Mom died when I was 12. She had been in and out of hospital, and was sick most of my young life. My life was not like my friends' lives. Most days I came home from school, did the ironing and started the evening meal. I did my homework while sitting on the floor  in front of the TV.
My life had been so protected. So much so, that when I was 14 or so, my boyfriend kissed me good night on my front porch (a little peck…not at all passionate), and my tummy felt funny, so I feared I was pregnant. Don't laugh. It is true. I really thought that. I was scared of the feelings I had. There was no one to talk to. My Mom had died.
Then, I graduated high school, went away to college, lived in the dorm and was horrified about what I witnessed. The stories the girls were telling in the dorm when they returned from their dates stunned me. I had never heard of such things as they were saying. They had blown up what I thought was balloons and they laughed at my innocence.
I went on a blind date on Friday the 13th. We saw a really funny movie "It's Never Too Late" about an older couple with grown children that suddenly find themselves facing the birth of another child. The husband was actually embarrassed because people would know what he had been "doing."
My blind date, Harry, was a really nice guy. He had never dated. Never went to a Prom. Never played in sports. Was skinny like me. The kinda guy that bullies picked on. So I felt compassion for him. I think I confused compassion with love.
He went away in the army, was stationed in Hawaii, working in the office at night and spent the days on the beach. He began to discover girls. I'll just share the part of the Hawaii story that was about me. Because of the time difference, he called me in the middle of the night. His job was secret and mysterious. It all sounded interesting. He got in trouble at his job and in his personal life. I think I confused compassion with love.
When he came back to the US, he got a job as a traveling salesman. (His bosses told him they believed their MARRIED salesmen were more stable and better at their job than the SINGLE salesmen.) (BTW, I didn't know that until many years later in our marriage.) So out of nowhere, he traveled to my home to meet my Dad and to ask me to marry him. His life was so exciting. I said yes. Both our parents wanted to meet each other, so my Dad, my brother and I flew for the first time to meet Harry's family. Both our parents wanted us to wait. I think I confused his sense of urgency with love. (Now I know he could not have kept his job if he did not marry. Unbelievable, huh?)
We got married and moved to the midwest. Far away from my family. He was indeed a traveling salesman. He was gone 5 days a week almost every week of the year. He drank a lot. All the time. To excess. He was a wonderful, fun, kind man…until he drank. Then, he became what has been called a "mean drunk". He hurt me, he broke things, and yelled at me and pretty much told me I was worthless.
We moved to Omaha Nebraska. Marriage counseling didn't help. One day I was looking in the paper and I saw a church with evening Sunday services, so I got all dressed up and drove myself a couple blocks away. It was more like a Bible Study. I liked it. I had never experienced such a thing as that. The people were amazing. They SHOWED me the LOVE of CHRIST. They SHOWED me unconditional love. They welcomed me into their lives.They were kind and loving.
Out of curiosity, Harry began to go to church with me. They treated him the same way. They were the REAL DEAL. Nothing fake about them. They loved Jesus and they loved people. The pastor was amazing. Kinda like Jesus with skin on. And he was even a carpenter like Jesus. God used all of them to teach me how to fight the good fight.
My husband was still drinking. He had had a low self-esteem much of his life. Drinking kinda masked it for him. So we decided to throw him a party at our home and show him how much fun you can have WITHOUT BOOZE. So, there was no drinking. But TONS of laughter as each person was told to bring a GAG gift for Harry. Something to make him laugh. I remember one person gave him a plastic hand that looked real. And the card said something about wanting to give him a "hand" whenever he needed it. The cake and NON-alcoholic punch were all a big hit. Everyone stayed and just enjoyed exchanging stories and keeping Harry in the middle of it all. He felt so special. It was the beginning of his giving his life to Christ. It was a beautiful thing. God is amazing, and He proves it when you invite Him into your everyday life to BE GOD!
So, that is a snippet of MY STORY
Watching THE WAR ROOM movie (5 times this last month) has reminded me that Harry and I were Elizabeth and Tony. I was bitter and he had a roving eye and drank a lot. And now, after all these years, I am like Miss Clara. She says in the film that she was not the faithful prayer warrior her husband needed. She was angry and jealous of his work. As was I. Then, many years later, Miss Clara confessed and asked God's forgiveness for her selfish pride. And then learned HOW to pray not FOR victory, but FROM victory that comes only from the Cross.
She said, "There is no grief as great as denying the TRUTH until it's too late. I always felt pushed to the back burner. I was bitter. It was my selfish pride. I confessed it. I repented. I asked God to forgive me. I spent more time with Him, and He taught me how to "fight".       Me too.
Then she said, "I realized I hadn't passed on what I had learned. I asked Him to send me someone to tell what I had learned."
And that is what I try to do with every blog post, every article, every newsletter, every book, every conversation. To pass on what I have learned. Hoping you will choose to avoid so many of the mistakes Elizabeth, Miss Clara and I have made. Onward!
Until next time…
Discover Living From Your Strengths (LFYS) Life Changing Mentor Coaching.
Do you have questions? Through the Ministry Insights assessment, you will Discover your strengths. And then, through mentor coaching, you will learn how to daily Embrace and Live out your strengths. You can contact me by clicking on the blue button beside the signature line. Or leave me a private message on Facebook.



Awaiting His shout,




Christian Life Coach
Leading from Your Strengths Mentor
www.loavesandfishescoaching.com