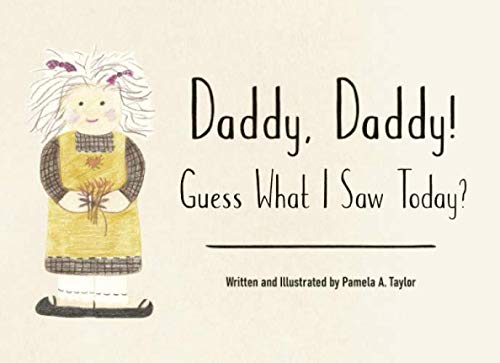 I can hardly believe it! One of my huge-est dreams has come true!
After many, many years of writing, dreaming, hoping, and praying, the day has finally come. I am so happy to offer this resource for parents and for all who love kids!
My first published book is now available on Amazon. I first penned Daddy, Daddy! Guess What I Saw Today? in the year 2004. The illustrations were created later. Many of you reading this blog post have asked me periodically over the years, to publish this book. You wanted to share it with your kids, your grandkids, your nieces and nephews, your Sunday School kids, and you had any number of ideas to use it to help encourage the attitude of gratitude in kids and adults alike.
Until this year, I did not see how I could possibly overcome all the obstacles and the details to make it happen. But thanks to Christian Book Academy, I began to BELIEVE it was POSSIBLE. And then, Heather Hart agreed to be my Author's Assistant and a miracle happened.
This book is written with gratitude for God's protection, provision, and wisdom along my own journey. I hope to remind you, too, to carry an attitude of gratitude to God with you throughout your day, and that your life will begin to take on that child-like quality the Lord calls you to.
Children model what they observe in adults, and especially what they see in their parents. Jesus tells us in Matthew 18:3 that we must change and become like little children in order to enter the Kingdom of God. Hopefully Daddy, Daddy! Guess What I Saw Today? will be one of many tools the Lord can use to help you towards that goal, refreshing your own view of the ordinary things around you, to regain that childlike joy of God's creation, so the children in your life, will "catch" that from you. And that you, too will enter into your children's enthusiasm for God's Creation, with them. This book is for anyone who longs to be reminded of the beauty, the color, the texture, and life that Father God created for the enjoyment of His children of all ages.
Here's the Link
"From a flock of geese to a dog on a leash, the pages of this winsome little book are filled with things we see around us every day. Everyday items get a fresh look through the eyes of a child; making them seem exciting and new while also teaching children how to be grateful for the God who created them. Take a walk with me through the pages of this book and help your little ones see God's hand in the beauty of life."
God bless you bunches!

Awaiting His shout,




Christian Life Coach
Leading from Your Strengths Mentor
www.loavesandfishescoaching.com