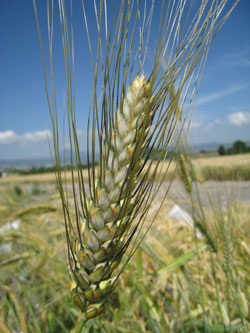 "Unless a kernel of wheat falls to the ground and dies, it remains only a single seed. But if it dies, it produces many seeds." — John 12:24
That pretty well sums up parenting…and especially motherhood. Motherhood is so daily!
Dying to self. The single seed dying to self for the greater good…the good crop. Meaning…when we truly surrender our rights to the Lord, beautiful things begin to happen within our hearts. And in our families.
In his very first sentence in the book, The Purpose Driven Life, Rick Warren states a Biblical Truth: "It's not about you."
That single statement reminds me to get my priorities in alignment with God's. It's NOT about me. It's ALL about HIM!!! The LORD! If there is a Lord (and there is) then there must be servants who do His bidding. (That's you and me.)
The Small Catechism states "the chief purpose of man is to love God and enjoy Him forever." We enjoy God when we obey Him. We obey Him because we believe Him when He gives us directions how to live a life which is pleasing to Him and is joy-filled for us.
And WHEN we surrender to that, He gives us His strength, in our weakness! When we are weak, then He is strong! Hang in there, Mom!
You are loved! And yes…it *is* worth it!
Click Here to leave a comment. I would love to hear your thoughts.
This has been a word of encouragement from:
The MomCourager™
Pam Taylor, Christian Life Coach
Do you have trouble falling asleep at night?
Are you grumpy because you are not getting enough sleep?
You might also be interested in this Secret Sleep Aid:
blog.loavesandfishescoaching.com/momcouragement/secret-sleep-aid/