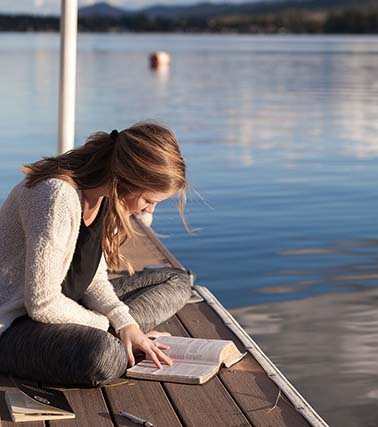 It's been awhile since I read through the whole Bible in a year. I'm not sure what happened. Why DID I stop?
It is time for me to begin that blessing again
I am hoping you might want to join me in this adventure in 2022. I really, really, hope you will! So, I am writing this blog post, as though you have said YES that you will join me!
Bible Reading Plan
The Our Daily Bread devotional has a Bible reading plan at the bottom of each day's page. I have ignored that reading plan up until now. So, it is TIME to honor their hard work to provide it!
I plan on reading those Our Daily Bread through the Bible verses in the evening before bed. What a great way to end the day. I'm excited to begin!
Do what works best for you
What will YOU do? And WHEN will you do it? The point is for each of us to use the plan and the Bible version and the system that works best for you/me. I have tried many different Bible reading plans through the years, and each had different benefits.
Each Day
Each year, I notice creative new reading plans to choose from. You can follow my same plan or you can choose another. The point is to read through from Genesis through Revelation in a year. It will be such fun sharing this experience with you. Please let me know if you are joining me. We can pray for each other to complete the successful journey.
Delighting God
I can't think of anything that would delight God more than His "kids" spending extended time together in His LOVE LETTER to HIS BELOVED (you and me) as we read through all of His word this year.
Which translation will you use?
I haven't decided YET which translation to use this time through. I had wanted the Passion translation I've been hearing so much about. But when I went to order it, it looks like to me that it is only the New Testament. So, now I am not sure. What about you? Which is your favorite? Will you try a new version for this journey through the Bible together, or do you prefer staying in one and the same that you started years ago. There is no wrong or right way. We just need to commit to DO IT faithfully and daily. This is to get a full picture of the entire Bible every year. Not just our favorite books and verses.
Practical stuff
What time of day will you read these extended passages? Morning, lunch break, afternoon coffee break, evening? When? Where?
This is a time for expanding our knowledge of the WHOLE COUNSEL OF GOD!
Remember, this is different from your devotional morning time, which is meant for connection. For fellowship. For direction.
December 31, 2022
On that last day of December, we can know that we know in our knower that we know our FATHER, SON, and HOLY SPIRIT in fresh, new delightful ways. And we will know that we have grown in our faith and accomplished what we set out to do. To be "hearers" of the entire Word. Which leads to being "doers" of the Word.
Thoughts
I want to remember to ask God to bless the reading of His word, and to speak to you/me as we read. You may want to keep a journal nearby as you read, to record fresh insights—or make notes in your Bible as God expands your knowledge and understanding of Him. Keep it simple so you don't get overwhelmed to the point of quitting. And if you happen to get behind, don't try to catch up. Just pick up where you left off. There's no LAW that you have to FINISH on December 31. The point is that you DO FINISH what you start. Not WHEN you finish. But THAT you finish.
This week
So, now, this week, decide which version of the Bible you will use and if you need to purchase it, do it right away. AND decide if you want to use the same reading plan as me, or if you want to use another. DECIDE THIS WEEK. Decide if you will keep a journal handy with colorful pens to record your thoughts as you read and ruminate. Decide what time of day you will read. Make a notation in your appointment calendar. Be deliberate. Decide where you will read. Will you have a special Bible Reading Corner?
OK, then…
ONWARD, fellow warriors. Grab your sword (the Word of God) and let's enter into the battle armed and ready to deflect the enemy's arrows—prepared as as our Lord was, when satan tempted Him in the wilderness after His baptism. It was the official beginning of His ministry and He was prepared with the Word on His lips – the Sword of the Spirit – And His response to satan was … "It is written …"
May that be our goal.
Join me? I hope so. I pray so…
My Father: Experiencing God's Love A-Z
Pamela Taylor invites you to join her in this interactive acrostic devotional journal designed to draw you into the extremely personal and abundant love God has waiting for you. Experience the "Just ask..." of His love for you!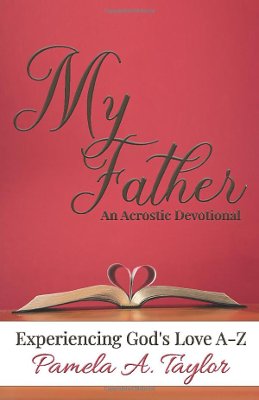 Until next time,
Awaiting His shout,




Christian Life Coach
Leading from Your Strengths Mentor
www.loavesandfishescoaching.com