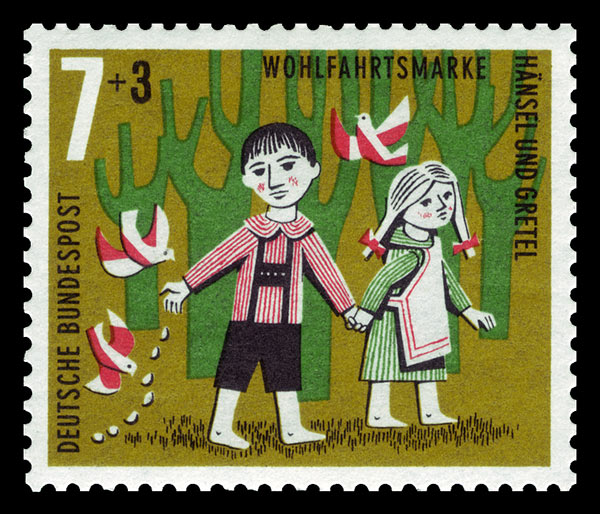 Funny story
Once upon a time, at the apartment building where I live, there was a strawberry salad thief. A resident was planning a party. She had stored the food in the refrigerator of the Commons area kitchen. Thinking it safe, she went to her apartment and to bed, looking forward to the next day's celebrations. Only to discover the next morning that her strawberry salad was missing.
It was quickly discovered that there was a RED trail from the kitchen, down the hall, and up the stairs, right to the door of the thief. There was no doubt what had happened. It is funny to think back on, but at the time, it was upsetting to my friend who was planning a party.
The story of Hansel and Gretel
Remember in that story there was a trail of white stones that caught the moonlight and led the children back home. (We won't discuss their home life in this article. YIKES!!!)
AND, the second time they were left in the woods to die, there was a trail of bread that was eaten by hungry birds. Eventually, they got home again, but it was a much harder journey.
What kind of trail am I leaving?
A story in a devotional book is actually what started me down this path: "Earlier this year, the owners of a restaurant called Build-A-Burger in New York State called the sheriff's office to report their cash register was missing. Deputies checked a nearby hiking trail and found a steady trail of macaroni salad. Hansel and Gretel didn't leave a better trail; and within a short time, a gang of three men was captured and charged with theft. It seems that along with the register, the men had also swiped a large bowl of macaroni salad." — Turning point devotional for Thursday, Sept 17.
Scripture reference
"Be sure your sin will find you out (Numbers 32:23) Hmmmmm…Even when we think we are pulling off the "perfect crime"! 😉
Isn't that amazing?
What got them caught was their lust of the flesh. They were apparently hungry, careless and sloppy (leaving a trail of macaroni)!
Do you like what you have read here? Click the button below to signup to receive an e-mail whenever we publish a new blog post.
Challenge question
Years ago, a group of us were asked the challenge question: How will you live your life? What would you like your tombstone to say?
I decided right then that I would want it to say: SHE CARED!!! Of course I too often fall short in my selfish humanness, but it is ever in the back of my mind, driving my behavior and attitudes.
Another Scripture verse
Paul wrote in 2 Corinthians 6:11-13 "We have spoken freely to you…and opened wide our hearts to you. We are not withholding our affection from you, but you are withholding yours from us. As a fair exchange…open wide your hearts also."
It is a fearful thing to open our hearts to others.
To trust. Opening our hearts to others can only be done by the power of the Holy Spirit. The people at Fort Street Christian Church in Omaha Nebraska opened wide their hearts to me about 40 years ago now. They were patient and kind. Gentle. And they loved Jesus above all else. Their "trail" was one that led me to the foot of the cross.
And in this month of greater focus on Gratitude and Thanksgiving, I am thanking them for that trail! They showed me the way HOME!!! To my REAL HOME!!! To JESUS!!!
What do you see as you look at YOUR life?
Isn't it great that you can actually CHOOSE what kind of trail you leave behind! AND…it is true that…
It is never ever too late to tweak the trail of your life. I can help with that…
God bless you bunches!
Until Next Time,


Awaiting His shout,




Christian Life Coach
Leading from Your Strengths Mentor
www.loavesandfishescoaching.com