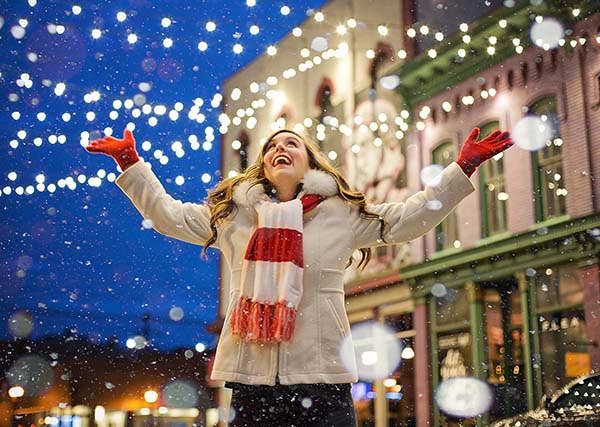 Christmas!
Are you like me? Do you ever get caught up in tasks and forget the purpose of Christmas? It can be easy for me to forget the other-centeredness plan Jesus taught us by His example. The joy. We can even lose sight of the Savior.
WHY do we do this to ourselves year after year? Every year we promise ourselves that this year will be different, and yet here we are, just days before Christmas and many of us are beginning to feel like failures. Overwhelmed. With more tasks still to do than we have days left.
And then—just like it came, it is gone! Another year is GONE!! The REASON for the SEASON got lost in the decision to try to make it PERFECT. Better than anyone else. MORE. Seldom LESS.
Single People. No "prospects" in sight. Divorced. Widowed
This is the time of the year when single people feel empty. Lonely. Disconnected. Nobody's "First choice". As my Dad used to say, "Feeling lower than a snake's belly."
The holidays are definitely for couples and families. And to be left out hurts, no matter how spiritual you want to be. So, what's a person to do? I've been single more years than I have been married now. And I still don't know the answer to that one!
Sometimes, what I do is just withdraw from everything until the holiday has passed. Not ideal, but it keeps me from going into a deep depression! I plan "projects" to keep me busy. And make sure I have "comfort food" on hand. I watch the Christmas movies … ALONE. (It's really not so bad for an introvert! I'm learning to look for the silver lining.) 🙂
Dysfunctional Families. Old "baggage". Betrayals. Disappointments. Anger.
Comparisons. Single-ness vs. couple-ness. Creativity vs. being all thumbs. Families vs. singleness. Each has its down side. Each has its benefits.
Much of my life was spent wanting our family to be healed. Wanting us all to live close geographically. Wanting to be loved. Believing I needed to be something I am NOT. Trying to be an extrovert. Trying to be easy-going. But that's not me. I spent many wasted years condemning myself. Wanting to be different. I knew God loved me. But I was not able to accept WHO I am. I focused on the ways I differed from you. I wanted to BE like YOU!!! Or anyone else but me!
So, I was prone to be very critical of myself. Dissatisfied and depressed. But then…
God stepped in and changed all that for me.
In the blink of an eye. It was like Christmas to me. God With Me in a fresh new way. Immanuel. Truthfully, my eye-opener was the Biblically-based Leading From Your Strengths consultation. It was so life changing that I decided to take the training to get my certification as a consultant. I wanted to be a "change agent". Leading others to embrace who God made them to be. Like He did for me. I am a different person. I am now content MOST of the time. I now embrace WHO I am. And WHY God created me. His PURPOSE for my life.
Are you asking: Who am I?
That is a good question to ask! Not just when we are at crises points or major life change events. (Like graduating college or getting married or being hit blindside by a divorce or a death!) None of that takes God by surprise; and it does not anger Him for us to ask questions. Because we know that when we ask the Lord, He promises He will lead us. He will be there in the midst of the "whatever" that takes us by surprise!
And since God has purposefully equipped each of us with carefully chosen traits, personality types, and spiritual gifts, when we learn to embrace who He created us to be, that's where contentment is birthed—being true to our God-created selves. Some call it "staying in your lane". (Rather than moving into someone else's lane through envy, discontentment or disillusionment.)
I was in my 60's when that happened.
I pray for you, that you do not wait that long to discover how to "stay in your own lane".
Contentment.
It comes when you embrace WHO you are and WHY you are here on this earth at this time in history!! The Leading From Your Strengths assessment and consultation is a great place to start. What do you say? Are you "ready" to move into your destiny? Why wait another day to be all you were meant to be…by God's design.
Contact me today to set up a FREE inquiry call. Just click here:
(FREE assessment included with your scheduled Leading From Your Strengths consultation.)
Merry Christmas! God bless you bunches!
Personality and Jesus
Do you know who God created you to be? Have you ever stopped to think about how your personality affects the way you interact with others? Find out more in this new book by Pamela A. Taylor.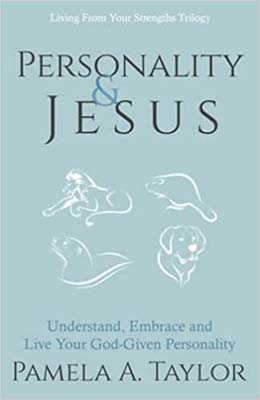 Until next time,
Awaiting His shout,




Christian Life Coach
Leading from Your Strengths Mentor
www.loavesandfishescoaching.com