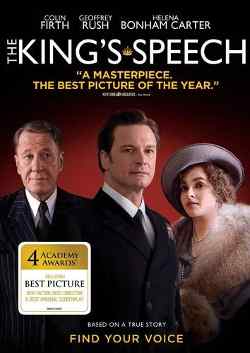 An encourager can help you find your voice.
What does that mean?
Each of us has a unique way of expressing ourselves. We are not created to be a carbon copy of another. What we believe that we "ought" to be able to do can sometimes cause a type of emotional or spiritual paralysis and/or an inability to move forward. Finding your voice comes from discovering your strengths. And then using them to grow stronger and more confident each day. It is YOU being YOU. The God-given you. The you that Creator God chose for you to be.
Encouragement is a two-sided coin
It actually is the Spiritual Gift of Exhortation. It is more than encouraging the discouraged or afflicted. The other side of that coin is afflicting the comfortable. Think of the many prophets that displayed that second side of the coin: Afflicting of the comfortable. Think of King David and the Prophet Nathan: "YOU are that man!"
The King's Speech movie
"When England's throne is suddenly thrust upon him, amidst royal family scandal and impending world war, King George VI must overcome a lifelong, debilitating speech impediment to lead his nation."
– from the back of the DVD cover
King George VI's wife
Elizabeth adored her husband and was an absolute rock of support and encouragement to him. She believed with all her heart that her husband could overcome his speech impediment. He was a stutterer. She had great compassion and continually tried to find someone to help her husband to find his voice and move forward. She was like the first side of the coin (encouraging the discouraged and afflicted king, her husband). He trusted and adored her.
The Speech Therapist
The King's wife found and enlisted the help of an eccentric man, who had been highly effective with soldiers returning from war, helping them to recover and rehabilitate. But, this speech therapist was the other side of the coin type of encourager. He was a true exhorter. He afflicted the comfortable King. He challenged him. He was absolutely devoted to the king. But, he refused to "baby" him or make excuses for him. He absolutely believed the king could overcome his affliction.

Do you like what you have read here? Click the button below to signup to receive an e-mail whenever we publish a new blog post.
True friends help you overcome your fears
The king (Bertie) and his speech coach (Lionel) learned to trust each other and became great and loyal friends to each other. "…the two men forge an unlikely friendship that will ultimately empower the monarch to find his voice, inspire his people and rally the world."
– from the back of the DVD cover
Sometimes pain precedes the healing
The King had resigned himself that no one could truly help him. He was thoroughly discouraged. He felt inadequate to lead the nation. And yet, we see it took both sides of the coin to help someone so deeply damaged by his past care-takers and father. People who should have helped him, actually shamed him! And that made him go deeper into the fear of failure.
Who has helped you find YOUR voice?
A Christian life coach is a lot like the speech coach that helped the king find his voice. Sometimes we will be one side of that coin. Sometimes, the other side of the coin, but ALWAYS with the goal of challenging you to achieve the greatness God had in mind when He created you. We work alongside God to help you find your strength…you wholeness. All for the purpose of greater peace and joy.
God bless you bunches!



Awaiting His shout,




Christian Life Coach
Leading from Your Strengths Mentor
www.loavesandfishescoaching.com