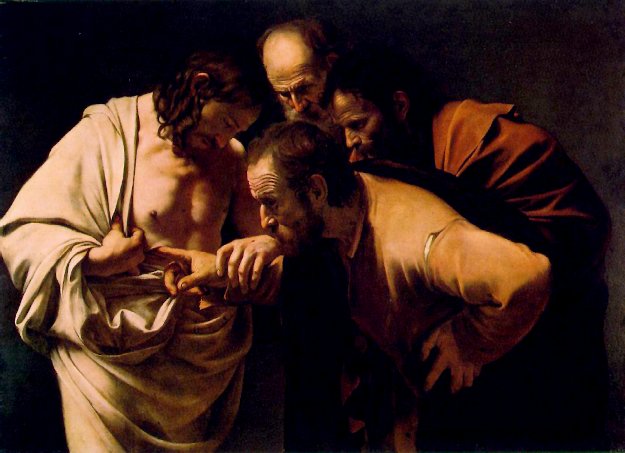 Imagine going through a really amazing and fulfilling 3 years.  And finally finding a leader you can admire as your role model. You love being with Him every day.
Then, one day, it all changes. He is arrested, beaten, killed and you are devastated. You need time alone to process what has happened. You simply don't know what to believe. And now, 3 days later, some of your friends say they actually saw your leader alive and well. IMPOSSIBLE, you think.
That is exactly what happened to the Apostle Thomas.
He, like the other Apostles adored their leader, Jesus. He was smart and kind and Thomas never had to worry about anything because Jesus would take care of it. Always! Even the couple times when Jesus was preaching all day and tons of hungry people were there listening to Him. Jesus cared about everyone. They were far away from any place where they could get food. So, what did Jesus do? He prayed and thanked God for what God was about to do and then…the IMPOSSIBLE happened. There was enough food for EVERYONE to eat, with a bunch left over besides.
But, to Thomas, this time is different.
It really does seem IMPOSSIBLE. Thomas knew without a doubt that Jesus had died a brutal death on a cross and was put in a tomb. A huge stone was rolled across the opening and there is no way a lone person could move that stone from across the entry, let alone walk out of there alive.
Yet, the apostles and the women said they saw Him. Alive. He came to them in the room where they were hiding.
"Now Thomas, one of the Twelve, was not with the disciples when Jesus came. So the other disciples told him, 'We have seen the Lord!' But he said to them, 'Unless I see the nail marks in his hands, and put my finger where the nails were, and put my hand into his side, I will not believe.'"

John 20:24
When people refer to Thomas, they usually speak negatively.
He is called "Doubting Thomas". Did he doubt, or was Thomas a Beaver personality? (LFYS)
Here's some characteristics about Beaver personalities. Let's see if Thomas fits the profile…
Tells things like they are
Careful attention to the facts
Notices details
Tendency towards perfectionism
Asks a lot of questions
Likes things done the same way
Beavers are Task people more than People people.
Notice the other disciples were all together, but Thomas had gone off by himself to sort things out. To THINK.
People with a Beaver personality's  greatest fear is making mistakes.
They are normally slow at decision making. They ask a lot of questions, which makes them APPEAR to be disagreeable or argumentative. They want to know WHY. They NEED to "verify", because they truly want to be a team player. They actually desire to agree and work together. But they need more facts than others might need. They are critical thinkers, calm, logical, and vigilant. They have high standards. They don't like to settle for less.
They are good at asking the right questions to get to the heart of an issue. But for some, that could feel like they don't trust the others. It is vitally important that we each one learn our God-given strengths AND recognize and respect the strengths of others. That is how teams function best.
Jesus SHOWED them to respect Thomas' questions
The rest of this Bible passage illustrates how thoroughly Jesus understands each of His "children". (You and me, too.) He understood Thomas was not merely difficult. He understood exactly what Thomas needed in order to enjoy fellowship again. And He demonstrated how to honor one another's differences. (It's been said a definition for fellowship is "two fellows in the same ship, going the same direction." And that is exactly what is going on here. Thomas wants to be convinced.)
"A week later His disciples were in the house again, and Thomas was with them. Though the doors were locked, Jesus suddenly stood among them and said, 'Peace be with you!' Then He said to Thomas, 'Put your finger here; see my hands. Reach out your hand and put it into my side. Stop doubting and believe.'"

John 20:26-28
Do you see the beauty of fellowship with the Lord? In true fellowship, we are honest with what we need and He hears every word. He KNEW what Thomas needed to see and feel in order to believe; and Jesus encouraged Him to receive what He needed from Him.
Picky people can be annoying
What do we often do when someone is so "picky" and "pessimistic" and "worrisome" like Thomas was? We might say something like "WHAT is your problem? Why can't you just believe what we tell you? Stop being so negative." But,those kinds of attitudes merely makes a Beaver MORE Beaver-like. They feel rejected and feel like they must justify their feelings. It just turns into a mess.
But…What did Jesus do? He met Thomas at his point of need. He KNEW his heart wanted desperately to believe, but He simply needed more facts. He needed to VERIFY. When he was treated with dignity and kindness and acceptance, what was his response?
"Thomas said to Him, "My Lord and my God!'"

John 20:28
Jesus added one more thing.
Of course Jesus knows not everyone is needing the depth of verification that Thomas needed, so Jesus reassured the others…
Then Jesus told him, 'Because you have seen me, you have believed; blessed are those who have not seen and yet have believed.'"

John 20:29
So, the lesson here is, to HONOR ONE ANOTHER. We must understand our own strengths and also value others' strengths. When we take the time to study the characteristics of each of the strengths and learn each person's differences in communication, true fellowship happens.
Let's do it!
ENJOY ONE ANOTHER and ENCOURAGE ONE ANOTHER!
That day when we shall see Jesus face-to-face draws nearer every day…
My specialty is Mentor Coaching around Personality Strengths. Contact me if you would like to know more…
Jimmy Learns about Life
Join Jimmy and his mama in this lighthearted book of character traits for kids. Jimmy is your average 7-year-old. He is going through life, having fun, and learning a lot along the way. Through mishaps, ministry, and more, Jimmy learns that there's more to life than first impressions. Each chapter of this book contains a character trait Jimmy learns during teachable moments of life.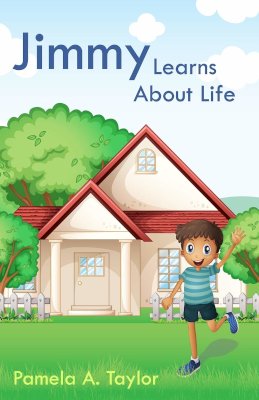 Until next time,
Awaiting His shout,




Christian Life Coach
Leading from Your Strengths Mentor
www.loavesandfishescoaching.com