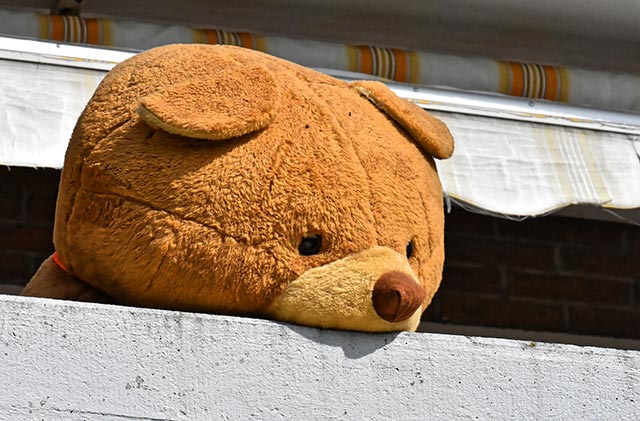 Are you stuck?
The reality is that many of the conversations we have on a daily basis are about what went wrong in our past. What's that about? God clearly instructs:
"…Forgetting those things which are behind and reaching forward to those things which are ahead, I press towards the goal to the prize of the high calling of God in Christ Jesus." (Philippians 3:13, 14) He wants you to release the past because you will never ever have a better PAST. No matter how you try. The past is…PAST…
What keeps you from letting go?
My prayer right now is that you will STOP and actually prayerfully look at your life and listen to what God is trying to say to you.
Stop blaming
The past is past. You cannot make it better. There are consequences and there are results. But it is past. Deal with what you need to deal with and move on.
There's no sense in BLAMING anyone. But you can look at your own attitudes and listen to your own words. We are what we think. And we are what we speak about ourselves. I can remember saying often to myself: "What is WRONG with me?" I wasn't seeing myself as God sees me. The life of a new creation cannot be lived looking back, but rather by looking ahead toward today and beyond.
Potty training
When I was MUCH younger, the big thing was blaming our mothers because of the way they potty trained us or whether they nursed us or not. That is unproductive. The past is past. Move on. Let it go! What you are right now today is not your mother's FAULT! You have God and His Word to help you be an overcomer. No more "excuses".
God has SO MUCH MORE
"Now to Him who is able to do far more abundantly beyond all that we ask or think, according to the power that works within us…" (Ephesians 3:20). God actually wants to bless you! But, He leaves it to you and me to embrace Him and believe His plan is for you and me to let go of the past and move forward WITH HIM.
What are you clinging to?
Has someone hurt or abused you?
Has someone disappointed you?
Have you been abandoned maybe as a child or by a husband?
Has someone manipulated you with guilt or fear?
CHOOSE to rise above it
Much in our lives can be solved, simply by realizing that we are all living out the personalities that God has given us, in an uninformed way. Often we see our strengths as weaknesses. Sadly many do not even want the abundant life because they would have to stop clinging to victimhood and blame. I don't believe that is you, or you would not have read this far!

Manipulation & domination
However, If you want to continue to manipulate people to feel sorry for you, or if you want to continue to have inauthentic surface-y relationships, then don't keep reading. I won't coddle you in your victimhood. I'll listen and affirm your life was tough (because who's life hasn't been?) BUT if you decide you want to work with me, I will help you discover your personal God-given strengths, so you can embrace and joyfully walk in them. AND I pledge that I will encourage you in every single tiny step forward.

Leading From Your Strengths
It will be glorious watching you do the hard work of re-programming your mind to think GOD'S thoughts and seek HIS plan as you walk away from your past failures and disappointments. God wants you to walk away from the past and toward your future. Because you will never have a better PAST anyway! It is impossible to change the PAST! So…

Let it go!
You won't forget about it, but it's behind you. Your past is part of what made you, YOU! I believe you are still reading this because YOU want to see your life through fresh eyes. You actually can move forward with the Lord Jesus Christ as your Source of everything, and trusting you no longer have a desperate need to "please" or "blame" any single person.

Do you like what you have read here? Click the button below to signup to receive an e-mail whenever we publish a new blog post.

Gratitude


CHOOSE to do what you do out of gratitude. For what the Lord has done for you. For your salvation. For your future in Heaven with Him. For His unending unconditional love of who you ARE, because HE is the one who designed you to have the gifts, personality, strengths, and talents that He knew you would need, in order to do what He has prepared in advance for you to do!

Onward!
Are you ready to begin the discovery process? If so, you have come to the right place. Let's get started…

Thanks for all you do…

Until next time…

God bless you bunches!



Awaiting His shout,




Christian Life Coach
Leading from Your Strengths Mentor
www.loavesandfishescoaching.com