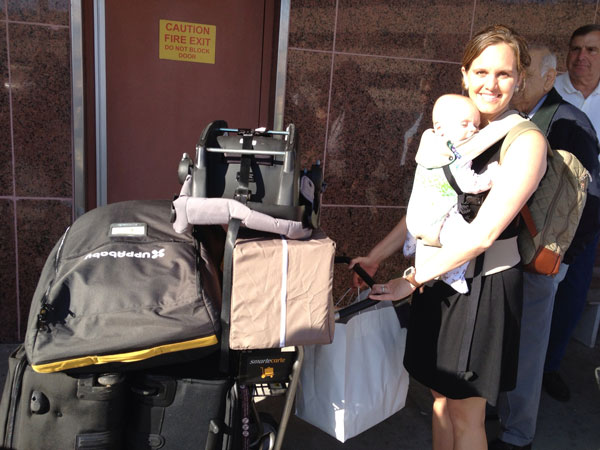 Put yourself in this Mom's place. Traveling alone with a baby.
Look closely and then tell me…What's "wrong" with this picture? Maybe "wrong" isn't the "right" word. Maybe "unusual" is the right word.
I'm pretty sure this would not be what I would look like if I were at a major airport, ready to travel a number of hours with my baby on a plane…ALONE! What about you?
Here is what is (wrong/unusual) = remarkable: She is smiling! She is a real, live person and she is smiling! And at peace! How did that happen?
Lindsay sent me this picture. It inspired me so much that I asked her if I could use it on my website. I figured if it inspired me, it would inspire you, too. (I'm passionate about helping Overwhelmed Moms find their way out of the fog. And this picture speaks volumes!!!) And then…when I heard her response, I just had to share it with you right away.
Because…here's something else that is remarkable about this Mom: Her response was "Yes…but…I wasn't overwhelmed." WOW! She wasn't overwhelmed??? Astounding!!!
What do you suppose was Lindsay's secret?
Lindsay had a plan. She had spent the days leading up to this day (as she prepared to move to another continent in a few short weeks) speaking God's promises out loud to herself as she packed and as she took care of her baby. Her husband was far away…on another continent because of his work. It was unavoidable. This was a fog she was going to have to find her way through without her husband's help. She wanted to be victorious, even though her life was in an uproar! But you would not know it to look at her, would you?! She had chosen the HIGHER ROAD.
Life is a series of choices. Flesh or Spirit. Which will rule? Which will we "feed"? The Spirit or the flesh?
This Mom had chosen to listen to praise music even though the things in her life were in chaos. While helpers were shouting questions at her. While she had to make a ton of last minute decisions. While she had to remember to eat. While she had to remember to change the diapers and nurse the baby. While movers came and went. While her apartment looked more like a war-zone than a home…with all the sorting and packing materials all around. Lindsay had chosen to have God on the throne, rather than let her feelings rule her. She did what she could do. She fed her Spirit Soul food and it nourished her to the point that her countenance would actually shine! You can see that for yourself!
She did what she could and left the rest to God. He likes that! 🙂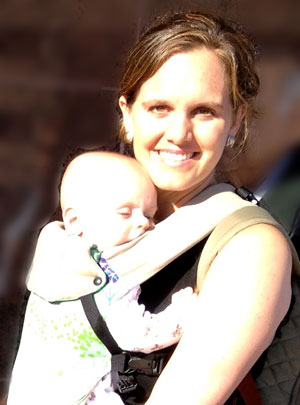 She is an amazing woman. She is one of my favorite people and I wanted to share a bit of her story with you. I pray it inspires you to take the time to stop, drop and pray. To remember that nothing is too big for God to handle. IF we let Him.  She made a conscious choice to meditate on the promises of God. To feed her soul with music. Not just any music. She chose music that nourishes and exalts God. Proving: You definitely are what you "eat". His Word (the Bible) is her nourishment. AND…Praises helped her rise above her circumstances. God has a plan and she followed it. And this is the result!
Please take time to comment and let us know what this has stirred up in you. And please also share stories of times when God's Spirit has ruled and you, too, have been victorious in a difficult circumstance. We would love to hear from you. And as Lindsay prepares to move from her familiar surroundings, your remarks could be perfect timing and have the same effect on her to encourage her to keep looking UP because GOD is BIG.
"My food is to do the will of Him who sent Me, and to accomplish His work," Jesus said. (John 4:34 NAS)
{{Lindsay Nichols Estes has a message for women in transition. She walks her talk and more often than not, she comes forth trusting God's promises. She knows the secret of success. If you are in transition, and want a coach to walk through it with you, you can find her here: http://www.linkedin.com/in/lindsaynicholsestes }}