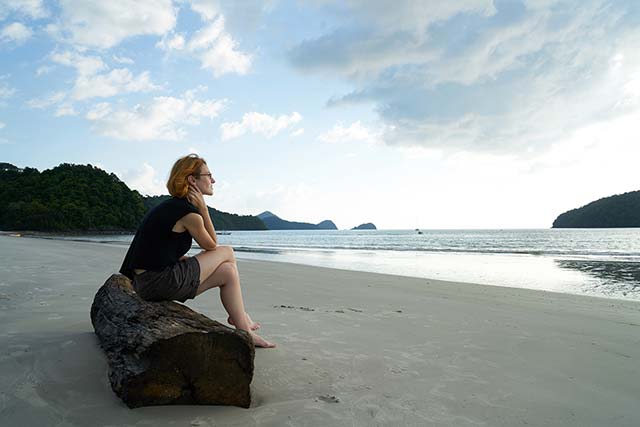 I've been publishing these weekly devotional thoughts and prayers for women on my blog to encourage your heart thru the Easter season, reminding you how deeply your Lord loves you–directing your thoughts toward the names & characteristics of your God. Today's name of God is, "El-Elyon." Here's the link to the first ones. 
Question:
Feeling lonely? Overcome with life? Where do you go when your life feels out of control? When you don't know where to turn. When all have turned away and you stand alone, forsaken, confused, and angry.Way too often we turn to a friend or to food or our favorite addiction, rather than to El-Elyon, The God Most High.
Are you learning, with me, to turn to the only One who can truly fill that empty void you feel?
But God…
Those two little words are a powerful reminder. All would be lost, but God… HE is the everlasting help you are searching for in those wee hours of the morning when all the world seems to be caving in and you feel absolute utter loneliness.
El-Elyon
I'm asking God to bless you right now, as you read this. That you will find Him whom your heart seeks. That He will fill that void. That He will become more personal to you than He has ever been before in your life. You are created for more than you can think or imagine. Embrace that fact. Is it possible to get ahold of your emotions? YES! Let's learn TOGETHER. It is time to turn yourself over to El-Elyon and trust that He leads you into His best life for you. Surrender is not a curse word 😉
I'd like to pray for you right now…
Father, we women are guilty of trying to be Super Women. We hate to ask for help. We think in order to be worthy, that we have to be able to "do it all" without missing a beat. We pretend to have it all together.
Yet, You have not created this lovely woman to go it alone. Those early morning, late night times when the world seems to be caving in on her…when she feels like no one cares…and she longs for a knight in shining armor to rescue her and take care of her. How delightful that is exactly what YOU do as El Elyon. You are that One she longs for. And ONLY YOU will fill the void.
Thank you for the times she stumbles and feels empty, because it actually drives her to seek answers. Please help her actually FEEL the change when she surrenders and looks to YOU and only You, to fill the void. Whenever she starts to murmur or complain, remind her to run to her El Elyon, The God Most High, over all things and all people. Help her to trust in Your Name and give thanks.
"…in everything give thanks; for this is God's will for you in Christ Jesus."
(I Thessalonians 5:18)
You have said that nothing can happen without your permission. And that You work everything together for good for those that love you. (Romans 8). satan can only go as far as you give him permission. And people can only go as far as you give them permission. The story of Joseph and his jealous brothers proves that. You, God, through circumstances beyond his control, used mean-spirited people to get Joseph exactly where you wanted him to be, to do exactly what you wanted him to do. No doubt he felt that utter loneliness we women often feel when the house is quiet and we finally go to bed for the night, and try to sleep. In those times when sleep won't come, because we forgot you are most definitely there through it all. That NOTHING can happen without your permission. Remind her to give thanks in all things…That is a powerful antidote to discouragement.
Remind her of Job in the Old Testament. satan said to God that Job only obeyed him because his life was so wonderful. God knew otherwise, so he gave permission to satan to see that for himself. Even Job's wife suggested that Job just give up and die. She even told him to curse God and die. But Job's response is classic and is excellent for you to remember right now as you prepare yourself to turn to El-Elyon yourself, in all things…
Father, quickly remind this amazing woman when she is tempted to go her own way. Draw her immediately back to you. When she tries to manipulate and dominate the situation that is causing her stress. You are her TRUE El-Elyon. With you, all is well. Help her to trust you more deeply.
You see. You care. You are in the midst of it all with her. Remind her to be like Job in her response "…shall I accept good from God and not accept adversity?" In all this, Job did not sin with his lips." (The story is in Job 2:1-10) Guard our lips Lord. Our ears hear when we grumble and our mind then believes the worst we are speaking.
Now what?
During this season of celebrating the death, burial, resurrection and ascension of our Lord Jesus Christ, do you need help reasoning it all out so you can accept the absolute truth that God is Sovereign Ruler over the universe? Over ALL! "For His dominion is an everlasting dominion, and his Kingdom endures from generation to generation…He does according to His will in the Host of Heaven and among the inhabitants of earth. No one can ward off His hand or say to Him, 'What have You done?'" (Daniel 4:34-35)
"If God is not Sovereign, if He is not in control, if all things are not under His dominion, then He is not the Most High, and you and I are either in the hands of fate, (whatever that is), in the hands of men, or in the hands of the devil." –Kay Arthur
Acknowledge & accept the King of Kings, as your El-Elyon In acceptance lies peace. He can be that for you! I'd love to help you find that acceptance and that peace. You can contact me by clicking on the blue"Let's Connect" button below.
Continue to Devotion Week #5 – Elohim (The Creator)
Free E-Book for Easter
When you sign up for Pamela Taylor's email list, you'll receive her 7-day Names of God Easter devotional book FREE.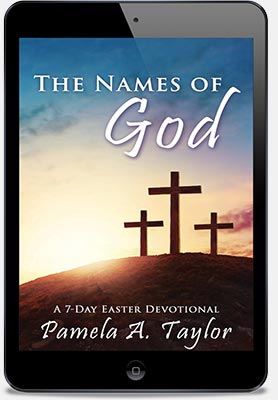 Until next time,
Awaiting His shout,




Christian Life Coach
Leading from Your Strengths Mentor
www.loavesandfishescoaching.com