Heading into the season we call Easter, I am publishing weekly devotional thoughts. Today's post is Jehovah-Raah.
Sheep need a lot of care
They need constant attention. They fall off cliffs, grazing with their heads down, unaware of their surroundings. Do you ever feel distracted like that? I do, too, sometimes.
Jehovah-Raah
It is true that "all we like sheep have gone astray". (Isaiah 53:6) . Sheep are sheep. What makes the difference is what kind of shepherd you follow. The shepherd determines the quality of care. It stands to reason then, that the better the Shepherd, the better the sheep.
I'm asking God to bless you and I'm praying for you, right now to connect on a new and deeply personal level with your Shepherd…Because you matter. You are created for more than you can think or imagine. But the key is getting ahold of your emotions and actions. Let's learn together how to turn ourselves over to the One True Shepherd! The world is loud, distracting, and full of "cliffs" in the form of temptations.
I'd like to pray for you right now…
Father, we women in our busy-ness can be tempted by counterfeits, but what we need is a Good Shepherd, because we are absolutely helpless without one! We often forget that we are totally dependent on You. Remind us when we forget. May we be "enlightened sheep", determined to look to YOU for all things, all day long! Help us to avoid the "cliffs" of temptation.
Lord, we all are familiar with the Psalm 23. Give us something fresh. Thank you that you are right here. Right now. Fully present. You actually are always with this amazing woman…please help her to know that if she is one of your sheep, she shall lack NOTHING that she truly needs. You are fully here for her. Thank You that you do sometimes allow her to stumble, so that she can understand and remember that You designed her to need to ask You for help. Thank you for the many ways you remind her that she is not SELF-sufficient. Give her absolute confidence in saying, "The Lord is my Shepherd, I shall not want." (Psalm 23)
You also promise to meet her TRUE deeply felt needs so that she can "lie down" in YOUR "green pastures" (the place where there is provision, protection, and companionship). Gratefully, it is not a forced lying down, but it is a release in her spirit that she CAN lie down and rest content and at peace, because the Shepherd meets the sheep's needs, so that the sheep CAN lie down and REST.
Father, please remind her quickly when she is tempted to go her own way. Draw her immediately back to You. You are her TRUE Jehovah-Raah, her Good Shepherd. With you, all is well. Because, "Surely goodness and loving-kindness (mercy) will follow me all the days of my life and I will dwell in the house of the Lord forever (Psalm 23:6)
Ahhhh…Rest in THAT, dear one! Rest in that!
During this season of celebrating the death, burial, resurrection, and ascension of our Lord Jesus Christ, are you certain that the Lord is YOUR PERSONAL SHEPHERD? If you are not sure, please immediately contact someone you know who is a true follower of Jesus. I'd love to be that someone for you…to lead you into the arms of the Lord Jesus Christ, the One and Only Savior. So He can be your own personal Shepherd. You can contact me by clicking on the button below.
Continue to Devotion Week #3 – El-Roi (The God Who Sees)
Free E-Book for Easter
When you sign up for Pamela Taylor's email list, you'll receive her 7-day Names of God Easter devotional book FREE.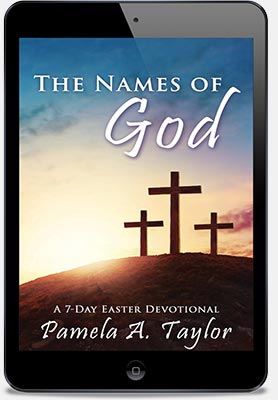 Until next time,
Awaiting His shout,




Christian Life Coach
Leading from Your Strengths Mentor
www.loavesandfishescoaching.com