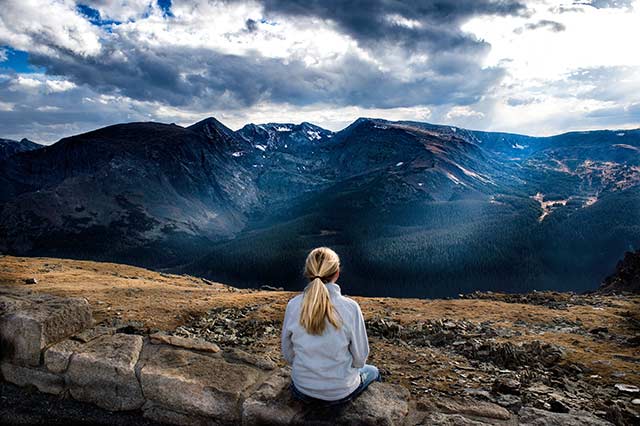 I've been publishing these weekly devotional thoughts and prayers for women on my blog to encourage your heart thru the Easter season, reminding you how deeply your Lord loves you–directing your thoughts toward the names & characteristics of your God. Today's topic is "Elohim." Here's the link to the first ones. Should I continue with this theme?
Are you learning—like me—to turn to the only One who offers REASONS for your existence?
The world offers counterfeits
And confusion. And tells us to work on our weaknesses and to be like whatever the latest commercials on TV are portraying as the perfect woman.
You are NOT a mistake
During this season of celebrating the death, burial, resurrection, and ascension of our Lord Jesus Christ, let's focus on the One who created you just the way your are. You are here, at this time and place by God's design. You are not an accident or a mistake.
God chose you for this time and place
Let's look at God the Creator (Elohim) a bit more closely through the eyes of Scripture. God spoke, the Spirit moved and Colossians 1:16 says in Him (Jesus Christ), the Son of God, "all things were created, both in the heavens and on earth."
Then, God (Elohim) said, "Let Us make man in Our image."
Moses didn't think he was good enough
Moses thought he was inadequate and slow of speech, and apparently had a speech impediment. He told God to send someone better to speak to Pharaoh and God said that He (God) had made Moses' mouth, so He knew what was Moses was capable of, even though Moses disagreed. (Do you ever feel that way about something you believe God is calling you to do? I know I feel that way sometimes.)
God also told Moses that He makes some people deaf, and blind. GOD decides what challenges and opportunities will bring Him the most glory. GOD decides. We do NOT.
Personal Story when I first understood Elohim
My son had been born 5 weeks early, and at 10 days old, he needed heart surgery. I could not believe this was happening. I didn't understand. I was in the hospital chapel arguing with God: "God, I haven't even had time for post-partum depression, and you expect me to deal with THIS?"
God's response to me
(It was as clear as if He had been standing in the room with me): "I decide who has heart problems and who does not." I could literally feel God's Spirit fill the room with the TRUTH of that. I didn't feel He was angry. I just felt that He was helping me see I needed to step up to the plate and accept what God had designed for our family. And I had absolute PEACE. Have you heard "In acceptance lieth peace"? I can attest to the truth of that. And my son had the surgery. And he is now 39 years old. And is married with a son of his own. Of course that is a shortened version of those 39 years, but the point is that we are ALL here by GOD'S DESIGN. GOD DECIDES. And then He walks through it with us!
Let's pray TOGETHER:
Father, Elohim, would you right now…this very moment remind this sweet woman reading this prayer, that you offer all she needs for every circumstance.
It is difficult to get our brain around how You create—out of nothing—and how You breathe life into everything. You truly are an awesome God. You create birds, flowers, cows, zebras, and creepy snakes and mosquitoes. You create sunrises and sunsets. AND YOU created this amazing woman, exactly the way You wanted her to be, so she can complete what YOU wanted her to do. Redhead or brunette, she is here at this time and place by God's design. Help her to embrace WHO she is IN YOU.
She is —created for YOUR glory—and is precious in Your sight. You formed her and plunked her down here and now. Bless her with a close relationship with You, Lord Jesus!
"For from Him and through Him and to Him are all things. To Him be the Glory forever. Amen." (Romans 11:36)
Now what?
You were created for Him! You are a unique creation of God, one of a kind,created for His glory. He "formed my inward parts." He "weaved me in my mother's womb…I am fearfully and wonderfully made." (Psalm 139:13-14)
"Have you ever thought of yourself as being fearfully and wonderfully made? Or do you look at yourself and despise what Elohim has created?" … "You may not understand how your situation could ever bring Him glory, but you can trust in the Name of your Lord."
– Kay Arthur
I'd love to help you find that acceptance and that peace. To discover, embrace, and live the very strengths God designed just for you! You can contact me by clicking on the blue button below.
Continue to Devotion Week #6 – Jehovah-Jireh (The Lord Will Provide)
Free E-Book for Easter
When you sign up for Pamela Taylor's email list, you'll receive her 7-day Names of God Easter devotional book FREE.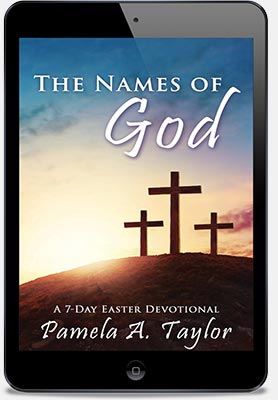 Until next time,
Awaiting His shout,




Christian Life Coach
Leading from Your Strengths Mentor
www.loavesandfishescoaching.com