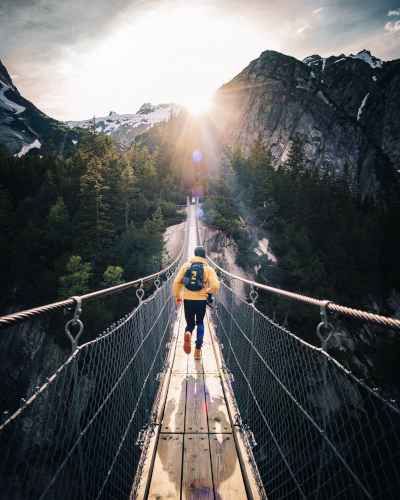 These are confusing times. Times of wondering who can be trusted. WHO do you believe? WHAT do you believe?
Trust in the LORD with all your heart; do not depend on your own understanding. Seek his will in all you do, and he will show you which path to take."

(Proverbs 3:5-6 NLT)
You are not alone. Many are feeling those same things and asking the same questions. But, what does God say about it? He tells us we are not alone. We might feel alone, but we are not!
Even if my father and mother abandon me, the LORD will hold me close."

(Psalm 27:10 NLT)
Truth vs feelings
These are the days to make a definite choice to believe TRUTH from the Scriptures and not be fooled by our feelings. The devil is the author of the "d" words: despair, discouragement, and depression. God is the author of HOPE: joy, encouragement, and contentment. Sometimes we want a reason when what we need is JESUS.
"Don't be afraid, for I am with you. Don't be discouraged, for I am your God. I will strengthen you and help you. I will hold you up with my victorious right hand"

(Isaiah 41:10 NLT)
You are not alone—not for one second. He is with you every second of every single day. He is closer than your breath.
"Peace I leave with you; my peace I give you. I do not give to you as the world gives. Do not let your hearts be troubled and do not be afraid."

(John 14:27 NIV)
Max Lucado:
"In the ultimate declaration of communion, God called himself Immanuel, which means, God with us. He became flesh. He became sin. He defeated the grave. He is still with us. In the form of his Spirit, he comforts, teaches, and convicts. Don't assume God is watching from a distance. Isolation creates a downward cycle of fret. Choose instead to be the person who clutches the presence of God with both hands. We can calmly take our concerns to God because he is as near as our next breath. And because the Lord is near, we can be anxious for nothing."
Practical stuff
Be sure you are getting adequate rest, and plenty of time in the Scriptures—the Word–truly SEEKING God and also healthy nourishment, so your are in the best shape physically to hear that still small voice of God. He is a gentleman. He does not SHOUT.
Elijah was discouraged, and that is exactly the "prescription" God gave him when he was worn out from the spiritual battle and was listening to his feelings rather than the truth he had witnessed. We all get there at some point. And we all need a hand UP to the higher ground again at some point in our lives.
I can help
I am a trained life coach. I am a living your strengths coach. It's what I do! If you are finding life less than joyful, we should talk. That is exactly my specialty: Helping women figure out how to navigate this moment in their lives. Helping you restore the joy of your salvation. I LOVE my "job". My "calling" to the body of Christ. For many, coaching is a bit confusing. It is not counseling. Coaches don't fix people. We help you believe that who God created you to be is a special treasure, dearly loved by your creator. I will be your greatest cheerleader as you navigate new ways of thinking and processing life. BTW, I just want you to know: YOU are His "favorite" Winking smile
Curious? Let's talk soon! I offer a free inquiry call so you can explore if coaching might be the missing link in your life right now. If you decide not, we still will have had an amazing conversation getting to know each other. What have you got to lose? Contact me to set up an appointment. Don't put it off. Or just click on the Blue Button next to the signature line.
You don't have to walk through life feeling alone. Not for one second. I would love to be that one clutching the presence of God with both hands together with you! To God be the Glory.
Until next time, I am…
Discover Living From Your Strengths (LFYS) Life Changing Mentor Coaching.
Do you have questions? Through the Ministry Insights assessment, you will Discover your strengths. And then, through mentor coaching, you will learn how to daily Embrace and Live out your strengths. You can contact me by clicking on the blue button beside the signature line. Or leave me a private message on Facebook.



Awaiting His shout,




Christian Life Coach
Leading from Your Strengths Mentor
www.loavesandfishescoaching.com