Mini-Minute with Pam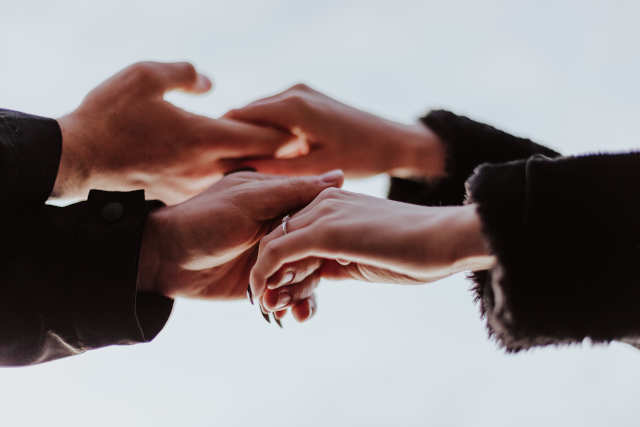 Relationships are tough.
Especially after watching the news, I sometimes joke with my friends, "The world would be a wonderful place if it weren't for the people in it." Of course that is silly, but it kinda makes me snap back and realize what is really going on inside myself that is causing me to REACT to something or someone. Do you ever have that problem?
People seem to so easily be offended these days.
Many are scared. Not knowing what to do about so many things in their lives. How can we be the "best version of ourselves", as some would say. Do we just put up with it and pretend all is well? Do we fly off the handle when things don't go our way? What would Jesus do? What DID Jesus do?
God created us, so He knows what our triggers are and He knows how we can walk as victorious overcomers. We are not alone in these struggles this side of Heaven. Jesus intimately understands. He is with us through it all.
"Lord, I can easily drown in a sea of priorities; some of which have become idols in my life. Forgive me and remind me of the importance of You being always first." "Empower me to be a peacemaker rather than a source of conflict, a reconciler rather than a divider." – Encounter with God devotional.
Stop. Look. Listen.
To yourself and to others. Let's take some time together to think it through. What causes reactions to and quarrels with each other? Perhaps it is not so complicated. If we think about these, maybe we can be kinder to ourselves and others. Perhaps we/they just need the H.A.L.T. Antidotes.
H.A.L.T. Triggers
H.A.L.T. = Hungry, Angry, Lonely, Tired. All are triggers in relationships.
H ungry. Results in physical or mental weakness.
A ngry. WHO/ WHAT brings out anger in you?
L onely. Can cause you to make compromising decisions.
T iredness. Difficulty concentrating. Prone to accidents in word or deed.
Antidotes to stop the H.A.L.T.
Hunger. Get something nourishing to eat so that your body, mind, and spirit can function at its best level.
Angry. First: Determine if it's righteous (someone else is harmed) or unrighteous (you are taking personal offense). Determine your role in it.
Lonely. Don't wait for others to come to you. Be the one to reach out to help or just do a simple kindness for another.
Tiredness. Set aside time to simply sit and meditate. to just BE with Jesus. Don't forget to purpose to get adequate sleep. Sleep restores.
Ask the Lord which of the antidotes you need to put into action.
You've heard the expression:
Do what you can do and leave to God what only God can do. Talk it over with the Lord. He will help you determine "What's next?"
Luke 5:16 "Jesus often withdrew to lonely places and prayed."
Jesus often withdrew from the others
Jesus often prayed alone to His Father
Jesus took the initiative to seek solitude in lonely places
Jesus knew when He needed to withdraw from others to pray to Father God
Sometimes quiet is the best environment for moving forward, especially in our relationship with God, SO THAT we will be ready to make decisions to follow through to move forward with the antidotes of H.A.L.T. Help us Lord, to bring you Joy in our obedience. To God be the Glory!
Do you need encouragement in your walk with God?
I offer one-on-one coaching and would love to come alongside you to help you become the woman God created you to be.


Awaiting His shout,




Christian Life Coach
Leading from Your Strengths Mentor
www.loavesandfishescoaching.com