The Upper Room
The upper room was the last time before His death, that Jesus and his best friends—the disciples—would be together eating a meal and enjoying each other's company. He showed them TRUE love. He talked frankly with them. They had shared so many wonderful experiences those three years of traveling together. Now, this was their last evening together—celebrating the Passover Feast. HE knew that, but they were just living for the day. With no thought for tomorrow.They were all together in one place. It was glorious. He loved them so much! He wanted them to KNOW that! He served them. He SHOWED them over and over again, HOW to love one another. And now—He was washing their feet. Imagine that! Peter, of course, protests. What would you do? Jesus kept trying to prepare them for what was ahead, but they simply did not or would not understand. I know often in my own life, I simply don't understand what Jesus is doing in my life until AFTER the fact. I guess I am as dense as the disciples were! What about you?
The Garden of Gethsemane
Think of that first battle between good and evil (think Adam and Eve). And now Jesus has the ultimate good verses evil battle looming in front of Him. Yet, this is exactly WHY He came. He didn't come to be born. He came to die. Without Easter, Christmas doesn't make any sense. Sadly it doesn't make sense to the RATIONAL EARTHBOUND MIND. But it is true! He came to DIE! For you. For me.
In the Garden, Jesus cried out to His Father God, "not my will but Yours be done". In this Garden, Jesus wins the battle by choosing to totally and absolutely surrender HIS will to the will of His FATHER. ABBA. He chose to SHOW us ultimate unselfish love! Love that SAVES! The horror of what was ahead for Him, was to begin very soon. He knew what He had to do, but that didn't make it easy. He struggled in the Garden. But, He prevailed in prayer. He won the battle in His mind, will, and emotions before He actually experienced the suffering and humiliation. He did that for you, For me. Stunning!
Alone with His Father
Jesus was often alone with His Father, but this time is different. Sadly, His friends, the disciples that He had taken with Him to share the sorrow and pain of His burden in the Garden, had fallen asleep, while Jesus did Spiritual Warfare! They slept. He fought in prayer. They gave in to their humanness. Their weariness. Have you ever gone through a tough spiritual battle ALONE? Friends deserting. Too busy. Too weary. Clueless what you are experiencing? I have. And I'm pretty sure you have, too. The good thing is that we—like Jesus—are not really alone. God the Father was with Him and He will be with us in all things. Through all things, ALL THE TIME! We are NEVER really alone. Believe that with your whole being.
They took Him away
Then, in the Garden, the solders took Him away. He did not resist. Any resisting He had previously felt, had already been dealt with in the Garden, wrestling with His feelings before God. While His friends—the disciples—slept. So, the soldiers brought Him before the High Priest. His friends had all run away. Peter followed at a distance. He tries to blend in with the crowd—to be UNnoticed, he hopes, Yet, he is recognized and in fear, he denies even knowing who Jesus is! THREE times he does that! Do YOU ever do that? Can you imagine the sadness Jesus feels when He is denied?
In your/my garden
In my mind, I picture this scene in my "gardens" of testing and trial. I imagine maybe saying things like, "I'm in a tough place. I don't want to go through this alone." And I look and there is NO ONE there with me. I am alone. Like Jesus was. That's what life truly is.People can only go so far with us. Most of the journey must be "fleshed out" individually alone in our "closet" (garden) before our Father. And He will make us aware of His presence with us. We are never truly alone, no matter how it may feel sometimes.
They slept
His friends slept while Jesus went through His spiritual battle alone. Just as our friends "sleep" while we go through our battles. They are going to blow it. And, sadly, we are going to blow it, too, when they go through trials and testings. We are just like the disciples. But, when we return, like Peter came humbly, repenting, in sorrow, we, too, will be welcomed back into fellowship with Jesus. And He will show us what to do. And when to do it. And how to do it.
Faith and Trust
Next to Jesus, there were two thieves hanging on crosses, tortured and in horrendous pain. Like Jesus was. One of them was arrogant and spewing out angry words. But the other one realized he deserved his punishment and he also realized that Jesus did NOT deserve what HE was experiencing. That second thief was saved because he put his faith and trust in Jesus Christ, not in any works. Just simple faith and trust. Not in church attendance or ministry. Not in teaching a Bible study or hosting a small group in your home. Not in water baptism. But He believed Jesus was the Son of God—come to save him for an eternity together with Him. When He spoke those words, Jesus promised him they would be together for eternity very soon. And the suffering would be behind them.
John 5:24 (NASB) "Truly, truly, I say to you, he who hears My word, and believes Him who sent Me, has eternal life, and does not come into judgment, but has passed out of death into life."
How about you?
Have you taken that step of faith—into the arms of the risen Savior? If not, this Easter would be a great time to take that step. Jesus is my Friend. I'd like to officially introduce you to each other!
We are living in perilous times.
I'd be grateful if you would pass this on to as many people as possible. It's Easter time. Like Christmas time, many thoughts are pondering Jesus. Springtime is a time of new beginnings. My passion is to get the word out that Jesus Saves while we still have opportunity.
Personality and Jesus
Do you know who God created you to be? Have you ever stopped to think about how your personality affects the way you interact with others? Find out more in this new book by Pamela A. Taylor.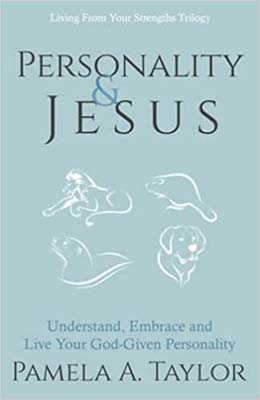 Awaiting His shout,




Christian Life Coach
Leading from Your Strengths Mentor
www.loavesandfishescoaching.com